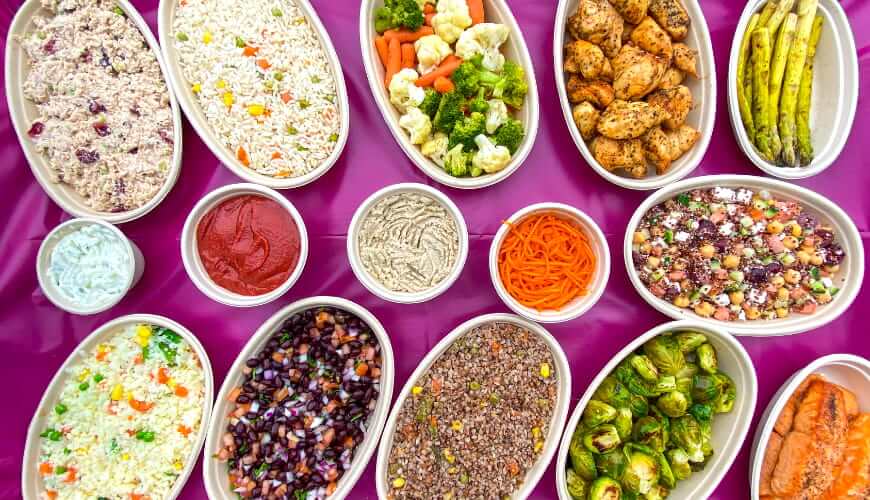 Boston's Most Versatile Health-Conscious Virtual Kitchen!
Phinix Virtual Kitchens started with one brand and one concept – to Fuel a Healthier Boston! Over the years we grew to become an award-winning catering business that fed the best universities and companies in Greater Boston area.
Our Mediterranean fare brought healthy greens, meat marinades and fish to tens of thousands of customers. They have come to love our homemade tzatiki, our nutritious hummus, vegan gluten-free falafel and much more.
Right before COVID, we realized that we are not the only cuisine that is focused on bringing healthful, delicious nutrition to Bostoners. Additional concepts, such as HealthPoint55 – ALL LOW GLYCEMIC kitchen, joined us to provide people with their take on excellent cuisine.
What is a virtual kitchen? It is a kitchen where a customer cannot enter but she can order online for delivery or pick up. Today, under our umbrella, we have five excellent brands and we are growing. All are uniquely different. But what unites them is a desire for a healthier food vision, whether you are a child, an athlete, a vegan, or an elderly diabetic.
All brands operate from a state of the art kitchen, where we take all precautions to ensure that our employees and our customers whom our food eventually reaches, are safe and protected.
Try our individual meals, our catering, or inquire if our kitchen can serve your school cafeteria, work site, or other large institution.
Cheers!
– Phinix Administration